Have you traveled everywhere you want to? Chances are, the answer is, "not yet." Why is that? Most of us aren't globetrotters yet, due to our budgets. What if we told you that there was a simple way to cut the cost of travel down, and it is all right in your pocket?
All you need, is one of the best moneysaving travel apps. Get ready to be have your own travel agent right at your fingertips!
1. Kayak

There's plenty of reason behind the fact that Kayak is consistently rated as one of the best travel planning apps currently on the market. Available on Android, Blackberry, and iPhone, it allows you to search for some of the best prices on flights, hotel rooms, and/or rental cars.
First off, no one is going to use the app if it's difficult to navigate. Whether you use the actual app or choose to go to their website on your laptop, it's all simple and minimalistic, making it very user-friendly. It's straight-to-the-point, ensuring you aren't missing out on hot deals that can disappear as quickly as they came about.
Arguably, the best way to get the cheapest price is to search multiple sites simultaneously, which Kayak lets you do. Once you search for a particular journey, comparative prices will pop up so you can select the best deals without having to leave the app.
The downside to this?
If you don't want to look at other prices, the new windows can be a bit annoying. It does, however, give you the option to turn this feature off, if you'd prefer.
If you live a busy lifestyle and don't want to have to babysit the app, you can just set alerts for certain prices. In addition, it features helpful extras, such as checking flight status, a personalized packing list, currency converter, and an airline directory.
The biggest negative for us was either the fact that you could not book a cruise, but that's not a big deal for many users.
2. Hotel Tonight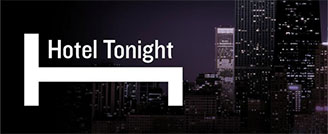 Ideally, travel is planned ahead, but many times, this is not the case. Sometimes, hotels get overbooked, the Airbnb is too loud, or you just feel like being spontaneous. In the past, finding a hotel last-minute wasn't the easiest thing to do, but thanks to Hotel Tonight, things have changed.
Hotel Tonight was created to help you not only find and book a hotel with short notice, but also find you the best deals.
Simply open the app, and right away, you'll see various options in your geographic area. Many times, they'll even give you a "Geo Rate," giving an even better deal if you're in the same city or close to your target. There are different categories to choose from, such as: "Basic," "Hip," or "Luxe," to further to narrow your results to your ideal hotel.
If the geo rate doesn't apply or wasn't cheap enough, if you book for that same day, they will often offer a "same day" rate that is typically pretty generous. Sometimes it pays to procrastinate or leave the planning til the same day!
So, are there any downsides to Hotel Tonight?
We found that downloading the app gives it the ability to find accounts on your phone, as well as allowing it to read the phone's identity. While this wasn't a dealbreaker for us, it was something seen as less-than-positive from our perspective.
3. Service

Service is a different type of travel app, in the sense that it doesn't it doesn't initially find you the best travel deals and let you book directly from them, such as the others on here. Rather, it is an app which monitors all of your booked flight and hotel reservations. Simply sync it with your email, and let it do all the work.
Although, it isn't ideal, flights occasionally get delayed or even canceled. Without Service, you can often be in an "out of luck" situation where you're just left waiting, which can fudge plans. In these cases, the app will actually contact the airline to file claims for compensation. While the compensation will greatly depend on the airline, your frequent flyer status, the class you were flying, and the seriousness of the delay or cancellation (weather delays don't typically qualify), they average about $110 per successful claim.
As far as hotels go, if your room rate happens to drop, Service will re-book you with that lower rate before you even hit the reception desk. The app claims that room rates drop around a third of the time between the time you book and check in.
The great thing about Service, is that you have nothing to really risk by downloading it. You can possibly save money, but if you don't, you're not out any money. However, if they do happen to get you compensation, the app takes 30 percent. If you travel often, you may benefit from taking up their membership at $49 a year, without the 30 percent taken out.
4. Booking.com

Undoubtedly one of the best free travel apps for Android and iPhone, is Booking.com. It features award-winning customer satisfaction reviews, secret deals for newsletter subscribers, as well as alternative accommodations, and so much more.
Booking.com makes quite a claim with stating, "Whoever you are, whatever you want, we've got the perfect place for you." So, was that true for us?
In our experience, it very much was. However, just like with Kayak, if you are hunting for a cruise, you're not going to find one here. It does allow you to book hotels, flights, and rental cars. Something else that makes the app stand out, is that it doesn't just restrict you to hotels. You can search among apartments, beach resorts, Bed and Breakfasts, cabins, villas, or cottages. Just about any type of accommodation (more than 800,000) is within your reach!
You don't even need to leave the app to make an instant confirmation, and you can even do quick and easy paperless check-ins. Much like Hotel Tonight, you can do last-minute reservations, and you can even book without having a credit card on file!
Not only is it great for reservations, but general travel assistance. You can use it for finding a particular landmark, a city, or even a hotel name with just a couple taps. Filtering search results is very simple, and makes finding anything quicker. You can also search by theme, by specific types/group of travelers, and more.
In addition, you can look for all kinds of hotel bargains, and typically they have some pretty good ones. The Secret Deals newsletters also offer half-price accommodations available in a certain period of time. They'll also send you an alert for any deals that are within your specifications. If you're kind of iffy about booking a certain place, you can read millions of reviews from verified guests, which can give you further peace of mind.
Now let's talk about the not-so-great aspects of the app.
First of all, it does ask for access to your contacts and location, which some users may be opposed to. In addition, the quotes do not include tax, which isn't exactly out of the ordinary, but is important to remember. An upside to this, is that their airfare rates did include tax, and even with that added on, was typically less expensive than comparative apps.
5. Skyscanner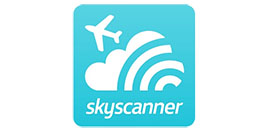 Skyscanner is a relatively new app that has since made a splash among the best international travel apps. The app lets you search for flight, hotel, and car rental deals. One of our favorite features, is their "Explore" section, where you can put in your departure airport/city, and find your next destination by choosing among various preferences. These include: Solo Travel, Kid-Free Travel, by month, by how long you have to plan, and more. You can even hit "Explore Everywhere," and quickly find the cheapest destinations to go to from your city, if you don't have a particular destination in mind already.
Skyscanner is the perfect option if you're looking for affordable flights, hotels, and/or car rentals last-minute. Much like Kayak, it provides a comparison search on flights, so you can search quickly and efficiently so as to get the best deal. In fact, it searches over 1,200 airlines, so you can rest assured you're looking at all realistic possibilities.
What are the prices like?
They're some of the cheapest flight rates we've found. In fact, within Europe, we even found flights for less than $15, which is cheaper than most bus rides!
The app itself is also quite simple to use, and is probably the most attractive travel app we've used, filled with beautiful photos of various destinations and a sleek light blue-and-white theme. To quickly find the best travel rates and dates, they've provided a user-friendly, color-coded calendar. You can even look at their "Cheapest Month" search option, which saves you a ton of time when choosing when to travel.
Despite being such a wonderful app, it does have its flaws.
There are sometimes discrepancies between the final price and the price shown on the booking site. This is likely due to the high volume of data being processed while searching. Another possible downside, is that they didn't always show the least expensive rates. Of course, we always recommend looking at various travel sites/apps anyway to ensure you're getting the best bang for your buck.
Summary
So, which one of these best travel apps of 2019 has caught your eye? While we genuinely were impressed with each one of them for different reasons, there was one that really stood out among the crowd. Booking.com is consistently rated as one of the best travel booking apps, and while we were a bit apprehensive, we have to say it's our favorite, as well.
It's user-friendly, and extremely comprehensive. You can use it to book accommodation not just with hotels but various types of homes and rooms, air travel, as well as car rentals to get you from one place to the other with ease. Paperless check-in makes things much quicker, and you don't even need a credit card to make your reservation.
Oh, and we found some of the best rates on the entire internet with Booking.com. As we're talking about saving money, this was our biggest determining factor, and we were honestly impressed.
So, which one of these best budget travel apps will you be using for your next trip?